Interior Trim and Molding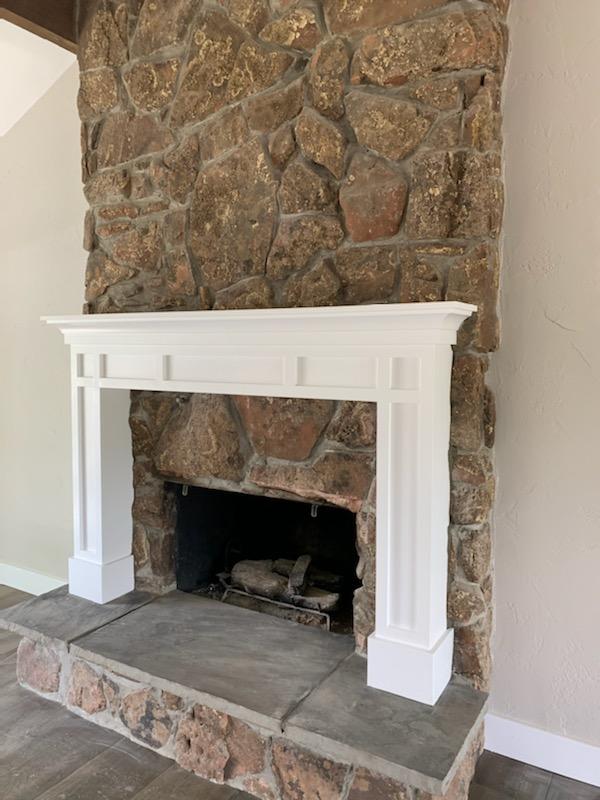 Best Interior Trim And Molding Services in Colorado
There's builder grade interior trim packages and then there's the master carpentry trim skills that bring back timeless elegance and high class feel to enrich any room in your home. Although adding door and window casing and baseboards is a standard way to finish off a space that we frequently do, baseboards especially after new floors are installed, our passion is in the finer detailed, bold, statement pieces, like wainscoting, coffered ceilings, applied moldings, real paneled walls or column wraps, and our favorite, Fireplace mantels and surrounds. When basic just doesn't cut it for your style and you want that perfect back drop for your family Christmas photo, reach out to us to see how we can add some spice to your bland walls or ceilings.
Interior trim might be modest or intricate, but it is always an important architectural element. We treat each of our perfect interior trim and molding services in Colorado Springs, CO, with the same high regard for the materials and workmanship. Our knowledge of materials, equipment, methods, and paint finishes makes us distinctive in achieving the finest results. Our skilled, knowledgeable crew will restore your inside trim with a smooth, long-lasting finish that can withstand normal wear and tear, cleaning agents, family use, and pets.
Add Beauty And Grace To Your Space
We can assist you in selecting the trim and molding style that best suits your interior space from the many available options. Even old trim can be revived with the correct methods and qualified knowledge. We can repair or replace damaged trim using our talents to repaint it if it is faded, scratched, or discolored. We can also handle the installation of new trim or molding that fits the existing styles. Architectural details can be highlighted, and a room can be showcased with routine upkeep or an occasional makeover.
We are pleased to serve our clients with our expert interior trim and molding services in Colorado Springs, CO. Our carpenters have experienced home creators who can care for your home repair needs. Our professional craftsmen have the experience and knowledge necessary to finish your project, whether it involves fixing a tiny piece of rotten wood or completely redesigning your area.
Customized Interior Molding That Fits Your Needs
Nothing enhances a space's elegance like new doors, wall treatments, elegant woodwork, and moldings. Perfect interior molding and trim finish installation are one of our strengths. Professionals at JSM Custom Contracting will always prioritize communication during your job and be available to address your demands; your complete pleasure is the best gauge of our ability. Additionally, we remain dedicated to providing first-rate services at a reasonable cost.
Contact Us For Professional Services
Our focus on the little things yields a superior end product that enhances your interior setting. You'll also appreciate a huge, immediate change in the interior of your house. Consider JSM Custom Contracting if you want to remodel the interior trim or molding in a single room or throughout your home or business. To schedule a consultation and go through the specifics of your project, send us a message or call at (720) 626-6211.
Contact Us Today and Get a Quote