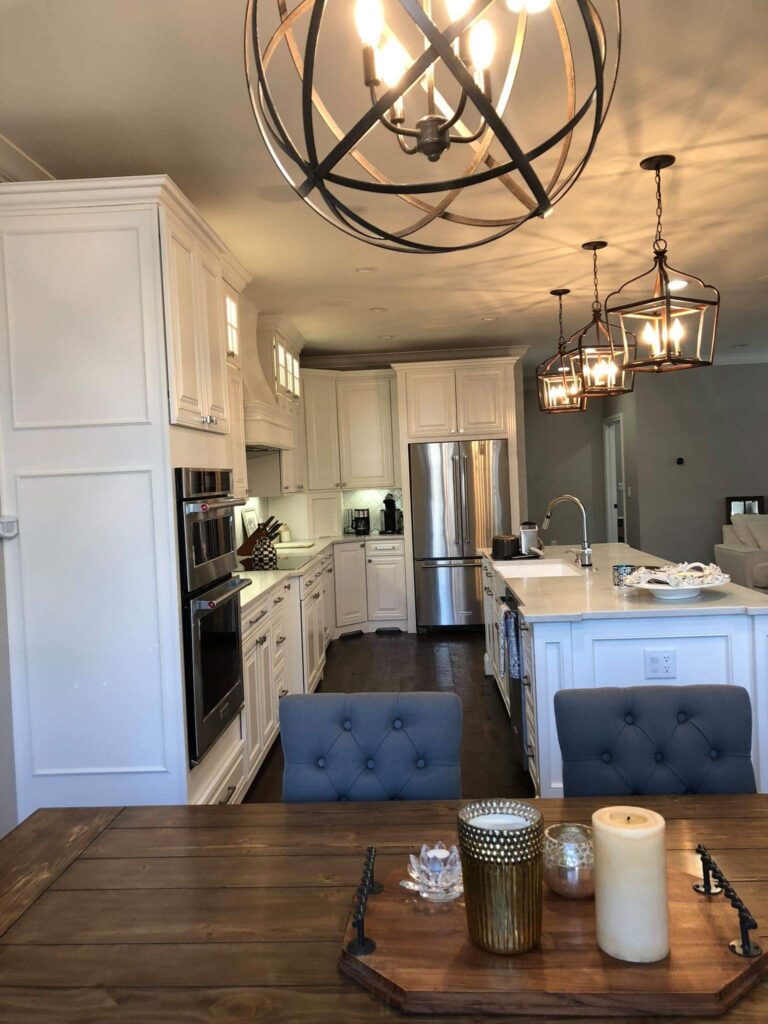 Cabinetry Services in Colorado
We understand that sometimes you end up loving your countertops, but hate your cabinets. We have found creative ways to swap out your base cabinets without removing your countertops. So if you never realized that was an option, now you do! More often than not, the process is more time consuming than installing cabinetry without countertops in the way, and so it does require more of an investment. It can still be cheaper than replacing nice stone countertops though. Cabinet refacing is also a viable option if your current cabinet layout works for you. We do not provide cabinet refacing services, but are familiar with the process and some possible downsides. If the inside of your cabinets are falling apart, refacing them does not solve that. Occasionally the thin veneer that is glued on can start to pull away and then crack and splinter. If you found your dishwasher or refrigerator leaking and damaged the floor and part of the cabinet, we can help you get things back to normal. If your battery/lightbulb/random screws/odds and ends drawer was overloaded and broke off the guides or the bottom panel caved in, we can get it operating smoothly again. If you simply want to add knobs or pulls or change out your hinges and drawer guides to soft close we can assist you with that as well.
Over the years, our company, JSM Custom Contracting, has built the same commitment to excellence and high quality that can endure the test of time, just as we did in the beginning. We bring real value and quality to the market and deliver to our clients with our cabinetry services in Colorado Springs, CO. The finest chosen woods are used to create each cabinet we produce, which is then finished and coated with topcoat and oven-cured catalyzed sealers. As the designer's thoughts are turned into reality by the fingers of our talented craftspeople, imagination gets shape. Regardless of your style and taste, our items' excellence is defined by the dreams you have for them.
We Specialize in Cabinetry
Kitchen cabinet repair is an essential task that can help you maintain the functionality and appearance of your kitchen cabinets. Whether you are dealing with loose hinges, broken handles, or damaged panels, repairing your kitchen cabinets can save you money in the long run by avoiding the need for expensive replacements. Kitchen cabinet repair can also be a DIY project that is relatively easy to do, depending on the level of expertise required for the repair. However, for more complex repairs, it is recommended to hire a professional to ensure that the repair is done correctly and safely. Regular kitchen cabinet repair can extend the life of your cabinets, keeping them functional and looking great for years to come.
Cabinet layout and installation is a crucial step in the process of updating or remodeling a kitchen, bathroom, or any space that requires cabinets. The installation process requires careful planning and execution to ensure that the cabinets are installed correctly and securely. Cabinet installers use specialized tools and techniques to measure, cut, and install the cabinets, making sure they fit perfectly into the designated space. Cabinet installation involves more than just mounting the cabinets onto the wall; it also involves the installation of hardware, such as handles and hinges, to ensure that the cabinets are fully functional. A professional cabinet installer can ensure that the cabinets are installed correctly and efficiently, saving time and money in the long run. Proper cabinet installation is important not only for the functionality of the cabinets but also for the overall aesthetics of the space.
We are not a full cabinet shop and shy away from full custom kitchen orders, but we can accommodate small orders, like 2-3 cabinets for a laundry room or office, and we love building bookshelves or media centers. From a custom kitchen island to garage storage, custom-built cabinets can provide a unique and personalized touch to any home project. Typically, custom built cabinetry ranges from $1200 – $1500 per linear foot of wall space, but can be more or less depending on options and finishes.
We have found that some people end up loving their countertops, but hating their cabinets. Fortunately we have figured out ways to remove lower cabinets without interfering with or jeopardizing the counters above. This seems like it could be a big time saver, but the process is much slower than starting from a fresh slate with nothing in the way. On average this option is about $2000 per cabinet to remove and replace with a prefab semi-custom cabinet. *We do not recommend this option on full run built in cabinets, only standard size boxes up to 36" wide. If you're not sure what that is or if you think you might have or want that type, please ask or let us know during our initial call.
If you haven't heard, there are numerous bells and whistles for cabinetry these days, from electronically controlled sensor locks and electrical outlets in drawers, to handy organizational pullouts for those hard to reach corner cabinets and soft closing doors and drawers. These are just a few of the available add-ons you can have. Even if you have cabinets from the 60s or 70s, it's still possible to install most of these accessories. Book a consultation with us to discuss what options would work for you.
Contact Us Today and Get a Quote